Our Mission:
Our mission is to provide excellent customer service and quality support services to all persons in the area of personnel, employee training and development and to serve the Citizens of Page by managing any risks and safety matters that may present themselves within the community.
The Human Resource Department partners with all departments to hire a diverse workforce dedicated to serving the residents of Page. In addition to the recruitment process, the Human Resource Department is responsible for compliance with State and Federal employment laws, benefits and compensation management, employee relations, and worker's compensation.
The Department is also responsible for orientation, classification, training, employee relations, employee record-keeping, and wage/salary and benefit administration for the City of Page employees. The Human Resource Department serves as an information center for employees and management. The Department handles all aspects of risk management, liability insurance, claims and safety compliance.
Our goals are focused on: 
Providing safety training throughout the organization.
Establishing, administering and effectively communicating sound policies, rules and practices that treat employees with dignity while maintaining City compliance with employment and labor laws, and City policies.
Updating and maintaining the City's compensation program.
Providing cost effective, benefit programs that enable the City of Page to attract and retain employees.
Employment Opportunities:
The position openings are updated regularly. All positions require a City of Page employment application. Some positions require testing or a Commercial Drivers License (CDL).
ALL POSITIONS ARE OPEN UNTIL FILLED
The City of Page is an equal opportunity employer.
Personnel Policies:
Click on link below to read PDF
Frequently Asked Questions
Where do I get an application?
Current Job Postings Listed "HERE" with application forms. NOTE: You can attach cover letter and resumé there as well. Paper applications are no longer accepted.
May I leave a copy of my resume on file for future job openings?
Because of the volume of inquiries that the City of Page receives, we do not keep resumes on file. The City of Page only accepts applications for positions that are currently open.
Do I need to submit a separate application for each position for which I wish to apply?
A separate application is required for each position for which you apply.
Do I have to fill out all portions of the application if I attach a resume?
You must completely fill out all sections of the application even if you attach a resume.
Please explain the application closing date.
All Positions are Open Until Filled
Explain the testing process.
Some positions require tests for screening purposes. If the vacancy announcement indicates a date, time, and place for testing, all applicants must take the test. Otherwise, if required, tests are scheduled by individual Departments. If chosen for interview and the Department in which the position exists requires a test, you will be notified of the time and location of the test at the time that you are notified of the interview. A passing score must be achieved on all required tests. Test scores are valid for one (1) year.
Explain the application screening process.
An applicant must meet the minimum qualifications as stated on the job description. Applicants are evaluated on the basis of prior training, experience, and education in the areas deemed most important to successful performance on the job. The highest-rated candidates are invited to interview for the position.
How long after I apply might I be called for an interview?
The time varies depending upon the Department involved; however, you may contact the Human Resource Department at (928) 645-4231 for updated information.
How often is job vacancy information updated?
Job vacancy information on the Web is updated as positions are filled or opened. Please note that the availability of each position is subject to change at any time.
Employment Benefits
The City of Page has a competitive employment benefit package offering medical, dental, and vision insurance. In addition, the City of Page offers a retirement package for all full time positions. Most City of Page employees are covered under the Arizona State Retirement System, while our Public Safety Department employees are covered under the Public Safety Personnel Retirement System. The City of Page provides life insurance benefit for each full time employee. Permanent employee's accrue sick leave, vacation leave as personal leave as governed by the City of Page Personnel Rules. If you have any questions regarding the City's employee benefits, please feel free to contact the Human Resource Department.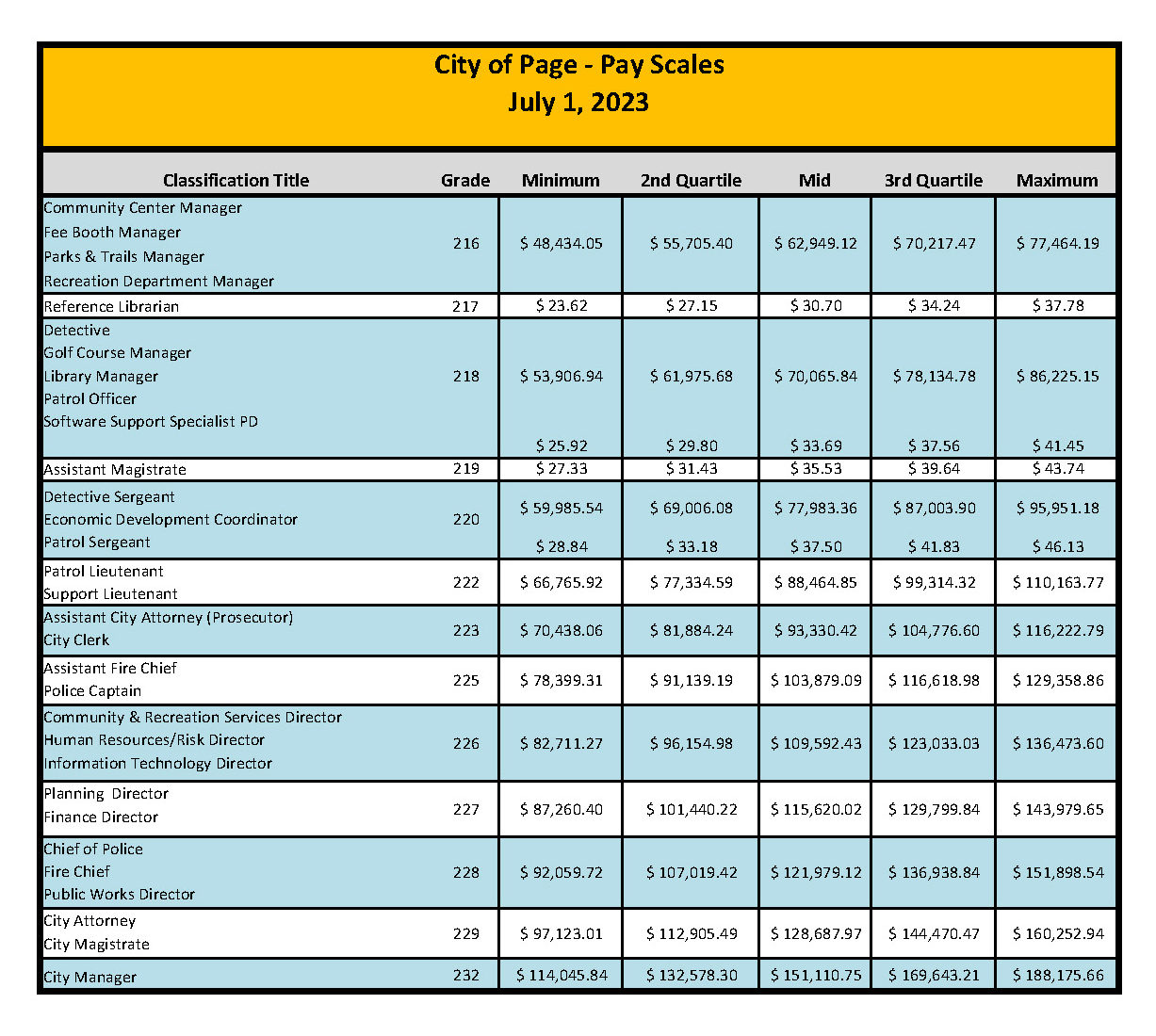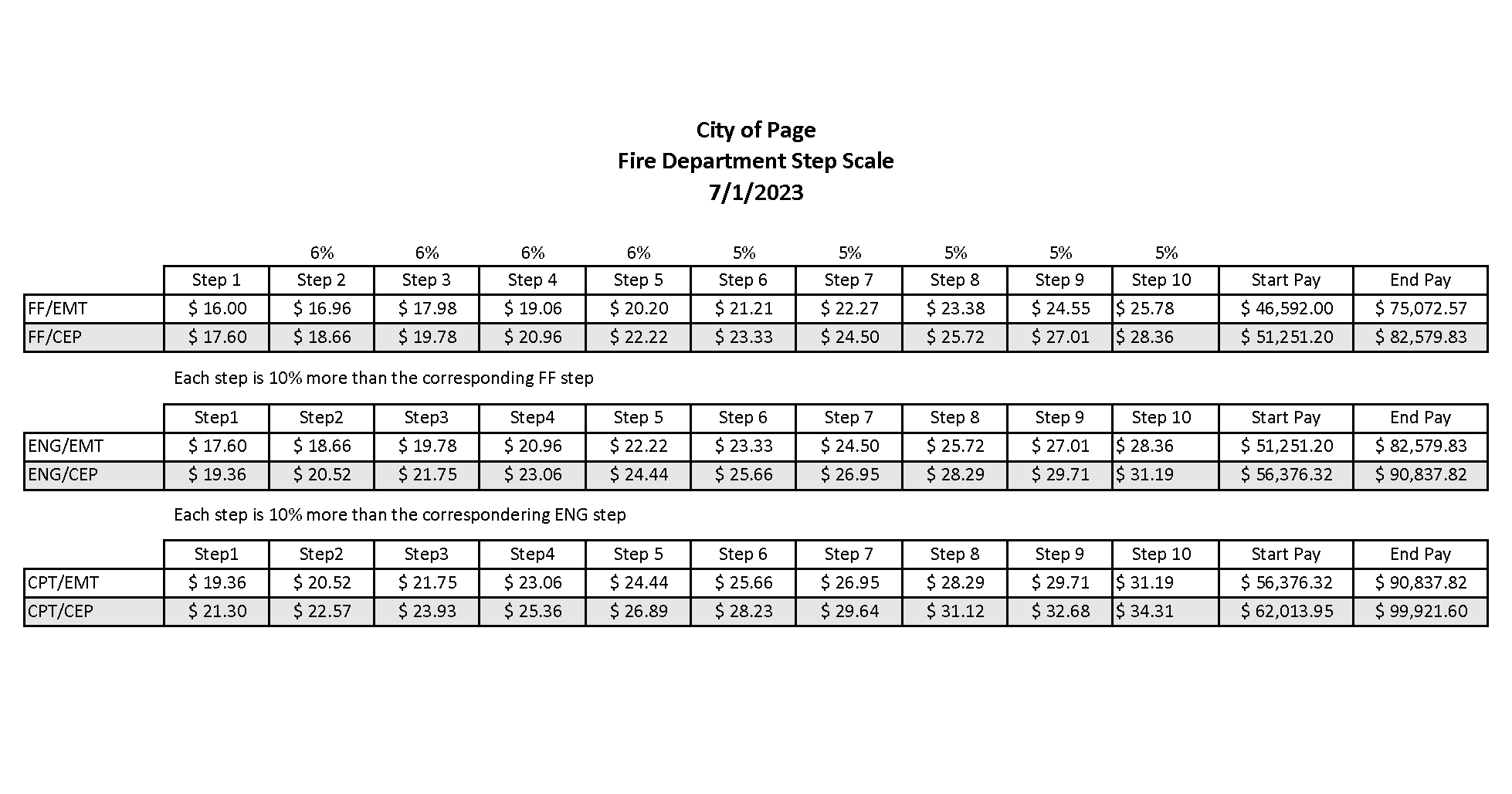 Rachell French
Human Resource/Risk Director
Phone: (928) 645-4231
Fax: (928) 645-4233
EMAIL