Horseshoe Bend is a horseshoe-shaped incised meander of the Colorado River, located near the town of Page, Arizona, United States. The hike is about .6 miles one-way to the overlook. The overlook is about a 1,000' drop, looking down onto the Colorado River. In 2018, a fenced overlook area was created for viewing safety. However, visitors who want to venture away from the fenced partition are asked to exercise caution; the sandstone edges of the terrain can be unstable causing slides or breaks underfoot.
The expanded parking lot was completed in early June 2019. Visitors now have a beautiful, safe parking area with a separate lot for larger RV's. Plenty of handicap-assessable parking is located near the trailhead. Commercial vans and buses have a parking section which allows for easy-in-and-out angled parking.
Our last stargazing is on August 7th.
Star gazing is from 8:30pm to 10:30pm AZ time. (Do not open entry gate at 8pm)
The newly completed Trail is now ADA, Stroller and User-Friendly!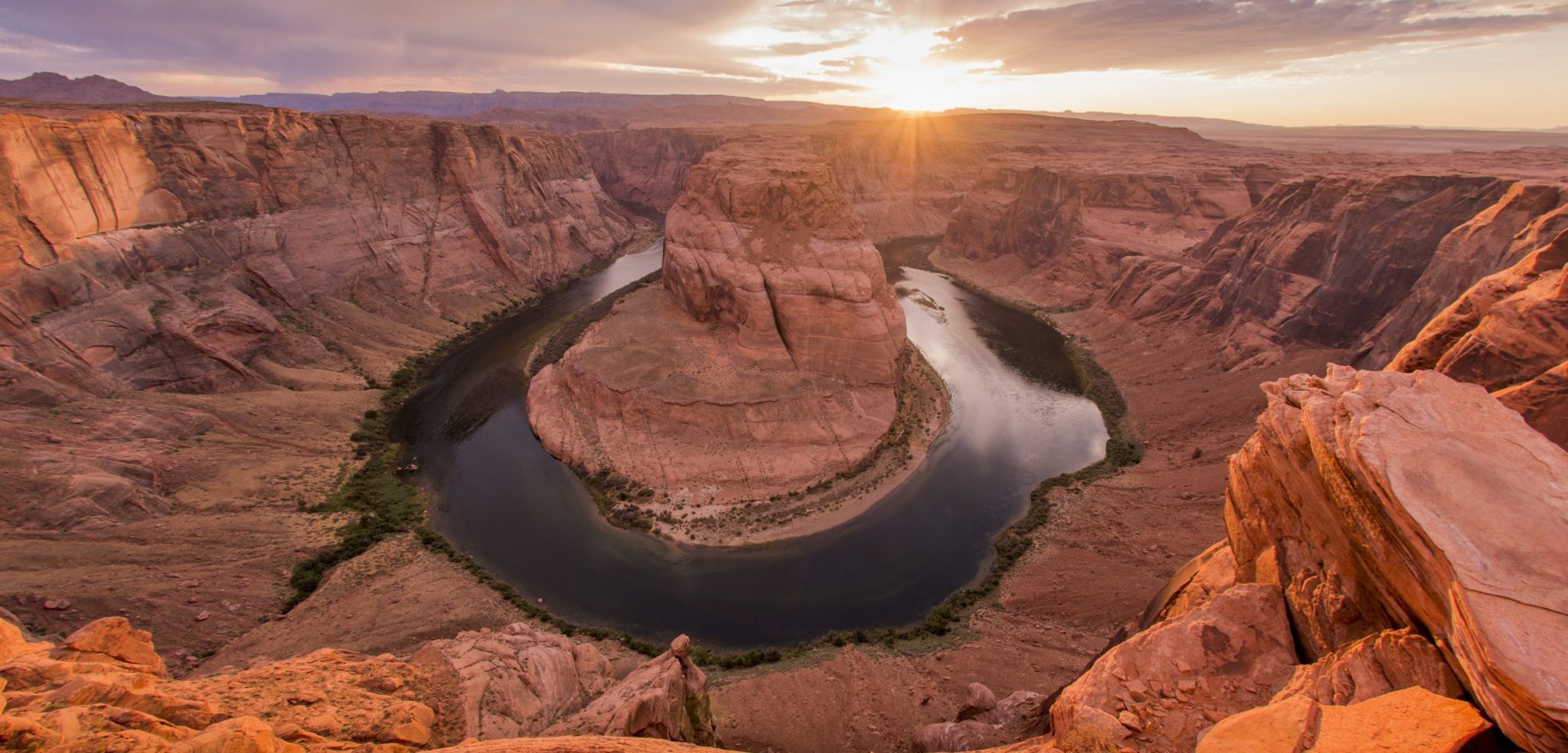 Horseshoe Bend is open year-round from sunrise to sunset. Our busiest times of the day are between 9:00am to 11:00am in the morning and 4:30pm to 6:30pm in the evening. If you enjoy fewer crowds, try scheduling your hike around these busy times. There is no overnight parking or camping allowed.
We accept both cash and credit card at the fee booths
NOTE: ONLY CASH WILL BE ACCEPTED ON HOLIDAY WEEKENDS
Horseshoe Bend Fees are as follows:
Motorcycle: $5
Car or RV: $10
Commercial Size Van/Bus: (Passenger Capacity up to 14) $35
Commercial Size Bus: (Passenger Capacity 15-35) $70
Commercial Size Bus: (Passenger Capacity over 35) $140
Entrance fees are based on the passenger capacity of the vehicle, not the number of passengers. There is absolutely no parking anywhere along Hwy 89, as this is a 65 mph highway, and vehicles will be ticketed and towed. The City of Page has passed an emergency ordinance prohibiting passenger drop-offs and pickups at the Horseshoe Bend entrance or along the Highway 89 corridor.
PLEASE bring plenty of water! 
There is water for sale for $1 a bottle.
PLEASE wear good, walking shoes! The sand gets HOT, so no open-toed shoes or sandals.
PLEASE protect yourself and your family from the sun! Protective headgear and sunblock are encouraged.
PLEASE ensure that children and pets have adequate water & sun protection, as well.
PLEASE be mindful of the weather. Summer showers, heat advisories, and wind & sand storms are common. Please use your judgement, as refunds are not given due to the weather.
Pets are welcome as long as they are on a 6' or shorter leash. Pet owners are responsible for cleaning-up any solid waste left behind from their pet. As the summer heat intensifies, please carry plenty of water and safeguard your pet's feet, as the ground becomes very hot.
Pet owners; please DO NOT LEAVE YOUR PETS IN YOUR VEHICLE! The City of Page Police Department takes animal cruelty very serious. Pet Owners who leave animals in vehicles will be arrested and criminally cited. Public Safety Personnel will take life-saving measures to rescue an animal in distress, if found in a vehicle. So, please be kind to your pets!
Holidays are very busy at Horseshoe Bend! During these busy times, should the parking lot fill to capacity, the entrance to the Horseshoe Bend parking lot will be closed. Visitors will be directed to return at a later time to see if the lot has been reopened. Though we have a nice, large lot which can usually accommodate even the busiest of days, there may still have an occasional day where we have more visitors than parking. Please read our Hours of Operation section for the less busy times of the day.
Welcome to the City of Page! Located at the very center of the Grand Circle, Page is the ultimate vacation destination. Currently, with more than 300 hotels, motels, and vacation rental homes and over 50 restaurants, you will have a wonderful stay while being within a drivable distance of 100's of natural attractions!
Here's a few of our LOCAL attractions:
HORSESHOE BEND – A definite "Bucket List" must see!
LAKE POWELL – Created when the Glen Canyon Dam was formed, Lake Powell is over 186 miles long and offers over 2,000 miles of shoreline. The same Colorado River which forms the Grand Canyon carved the beautiful canyon structures of Lake Powell. Imagine the Grand Canyon filled-up with water, and you have a beautiful, clean, fresh lake!
WAHWEAP MARINA and ANTELOPE POINT MARINA – There are two marinas, both offering swimming, boating, jet skiing, and houseboat rentals for those who want to spend time on the Lake. If you want to let someone else do the driving, both marinas offer tours to Antelope Canyon, the backside of the Glen Canyon Dam, dinner cruises, and Rainbow Bridge Tours.
GLEN CANYON DAM – Marvel in the history of the Glen Canyon Dam and Page, AZ area. Dam Tours are available daily.
RIM TRAIL – The City of Page offers a beautiful 10-mile Rim Trail that encircles our city. Walk the eastern side to see a beautiful sunrise, or bike the entire trail. Pets on leashes are welcome, just please clean-up any solid messes.
JEEP TOURS – Want to escape from the crowds and visit some of our backcountry? Take a jeep tour or rent a Jeep and explore on your own.
SLOT CANYON TOURS – There are 7 different slot canyons that you can tour on the Navajo Nation, all within minutes of downtown Page.
MUSEUM & CONSERVANCY – Located in Downtown Page, a great stop to learn about the history of the region.
HANGING GARDEN TRAIL – A 45-to-60 minute hike to a red rock cavern where beautiful greenery hangs. Feel the 10-20 degree temperature drop when you arrive! A great hike to fill-in time between other outings or to build-up your appetite before dinner!
THE CHAINS – Swim (or climb) off the beautiful red rocks near the dam.